COMMUNITY BOARD
---
KMG Childcare Needed
KMG is looking for Nursery help every other Wednesday morning, starting October 6th. It would be from 8:45am to about 11:15am. People can contact Chalon Bossert if interested in serving, 717-368-1285, .
---
Private Duty Nurse Available
Phyllis Whitton, a Private Duty Nurse, is currently looking for new work. If anyone is looking for care to help with their elderly loved one, please give her a call: 610-209-6022
---
Davco Employment
Pre-Press Specialist
We have an opening on our design team for a Pre-Press Specialist. Duties include assisting the design director with proofing responsibilities and processing graphic files for printing.
We're searching for someone who has excellent computer skills, possesses strong proofreading abilities and is proficient in many of the graphic software applications including: InDesign, Acrobat and PitStop.
This is a full-time position, Monday through Friday 8:00-5:00. A benefit package including health insurance, 401K, paid time off, and paid holidays is provided.
If interested, please click here to submit a resume or completed job application.
Customer Service Representative
We have an opening on our promotional products team for a Customer Service Representative. Duties include support and service to our customers and sales team through order placement, product research, job quotes, and order management.
We are searching for those who are personable and enjoy working with people. Strong computer skills, a professional image, and willingness to learn are a must. Knowledge of the promotional products or printing industry preferred but not required.
This is a full time position, Monday through Friday 8:30-5:00. A benefit package including health insurance, 401K, paid time off, and paid holidays is provided.
If interested, please click here to submit a resume or completed job application.
---
Banks CARE Group
Volunteers Needed
The Jim Banks CARE Group is looking for 1-2 volunteers to help serve dinner at the Factory Youth Center every 3rd Thursday of the month in the evening. It's September through April and you don't have to be part of their CARE Group to help! They just need help that third Thursday of each month. Contact Jim Banks to help, or get more info.
---
Night Nurse Needed
Devon and Lauren Smoker are in need of a night nurse for their 3 year old daughter, Raylie. The main duties would be trach monitoring, Bipap monitoring, and gtube feeding.
If you or someone you know could help fill this need, please text Lauren at 717-940-8543.
---
Rent the Rocky Acres Cabin!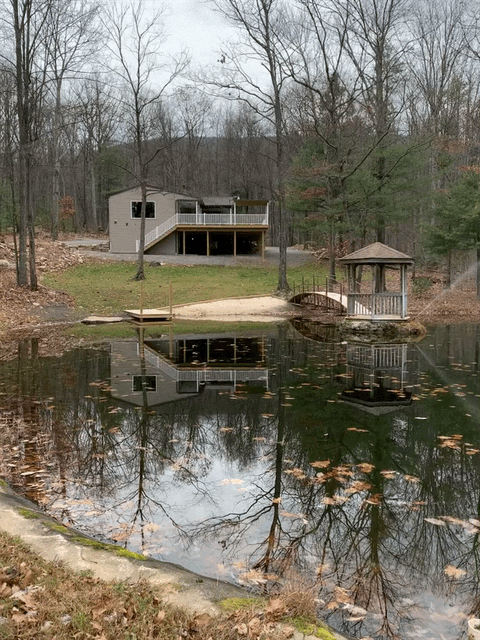 Cabin Description:
Seven bedrooms, five with queen beds, one with queen bunk, one with two bunks (full sz.) = eleven beds
Two fridges with freezers (no ice makers)
Well stocked kitchen
Two bathrooms plus one bedroom has a half bath
Large deck with picnic tables
Croquet court (croquet set is provided)
Fire ring
Pond with small sandy area and a paddle boat
Cabin has AC
Limited phone service
We provide: Paper towels, toilet paper, kitchen towels, dish clothes, dish detergent, hand soap
You provide: Bed linens, pillows, bath towels, hand towels for bathrooms, extra blankets


Cleanup:
Your cabin fee includes a cleaning fee however, you are responsible to clean the following….
Empty ALL trash cans and take ALL trash with you.
Wipe off all kitchen counter tops, kitchen table, wipe out microwave, both fridges/freezers.
Clean stove top and grill.
Sweep kitchen floor.
If you moved any furniture, return it to it's place.
Cabin Rules:
NO PETS
No discharging firearms
No ATV's/dirt bikes
No alcohol/smoking
You are responsible for any damage inside or outside.
You are fully responsible for any and all medical expenses should any be incurred.
Every household present must have a copy of these guidelines
Cabin Fees:
Minimum Two Night Stay
$15.00 per adult per night (15+
$10.00 per child per night (6-14)
5 and under are free
($200 minimum per night)
Guidelines and fees subject to change at any time
Caretaker will unlock and lock the cabin
Checks are payable to: John Beiler 159 Bushong Rd, Quarryville, 17566
Please mail payment within two weeks of your stay. Do not leave payment at cabin.
Please note with your check the exact amount of people/children that were in your group.
Contact information:
Rentals: 717-786-3409 Cabin Issues: John 717-682-8624
Cabin address:
550 Palmer Ln. Richfield, PA 17086
---
Movie Night at
Cackleberry Antique Mall
Movie Night by various vendors at the Cackleberry Antique Mall is seeking a reliable worker to help set up and then man the front gate to accept payment. $10/hr 5pm-9pm, Fridays and Saturdays. Contact DJ at 610-715-3370
---
Moccasin Run Golf Club
Shotgun Pub & Grille at Moccasin Run Golf Club is now hiring a server & cook. You must be 18 years or older with valid driver's license to apply. Serious inquires only please. Email your resume to or come in person to fill out application: Moccasin Run Golf Club, 402 Schoff road, Atglen, pa 19310 - Contact: Grace King
---
Bless Their Nest
Contact Jenn Kilby for more information: 484-948-5210
---
Best Western Plus, Intercourse Village
Best Western Plus Intercourse Village Inn is currently hiring multiple positions – Front Desk, Housekeeping and Maintenance.
Email Kurt Thomas for more information:
---
Custom Home Improvements
Custom Home Improvements is seeking workers of all sorts, who have a little home improvement experience. You must have own transportation.
If interested, please call D.J. from Custom Home Improvements. 610-715-3370
---
Cherry Crest Farms
Cherry Crest Adventure Farm is currently looking for a Food Service Supervisor. Please contact Shelly Temple at 717-687-6843 for more information!
---
Align Life Ministries

Align Life Ministries has an open staff position for Pregnancy Services Director at their Lebanon location.
CLICK HERE to find out more about this position, and to apply online.
---
Community Clothing Bin
Due to collection costs and COVID-19, the Clothing Bin that served Water Street has been removed from the Keystone South parking lot. Donors can still donate items (find out what's acceptable: https://communityaid.org/get-involved/donate-2/) on behalf of Water Street mission Mon-Sat. from 9 am - 3 pm @ 31 Rohrerstown Road, Lancaster, Pennsylvania 17603 (717) 412-7706. Collected items will be credited to Water Street Mission if you tell the person at the donation door that they are for Partner #40001.